Discover more from New_ Public
Join a community of thinkers, designers and technologists building the digital public spaces of the future.
Over 10,000 subscribers
💬 Feeling some type of away.
Our on-again, off-again relationship with status updates and away messages.
Welcome back to "status season" at New_ Public, citizens!
Before we get the 411 from our good friend Josh Kramer, I'd like to put two events on your radar: our virtual Digital Playground with Anil Dash on Thursday 4/27, and our first-ever in-person Happy Hour for our Bay Area subscribers on Tuesday 5/9.
Save your spot(s) below, and I'll see you soon. 'Til then. —PM
All the ways we say we're away.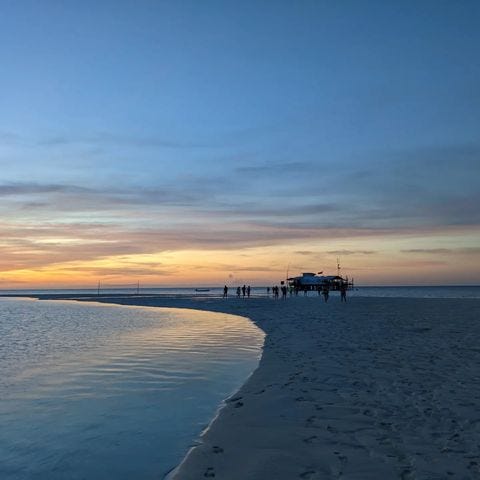 Right now, I am writing this on a dive boat in the ocean in the waters of the Philippines. There is no internet available at all. Not one bar.
As our vessel departed Puerto Princesa, we were warned that we would only have a cell signal for about two more hours. I set a vacation responder on my email, wrote an explanatory Instagram story, messaged my Discord, and hoped that was enough.
What I really needed is an away message — a single point of truth that communicates my unavailability. In this era of constant, real-time, synchronous communication, a lot of us are in desperate need of a simple tool to make our online lives a little more asynchronous: leave me a message after the beep, and I'll get back to you when I can.
This week: a consideration of status updates through the years, related in present-tense, real-time updates. Let's use our own imaginary Wayback Machine and start our tour at the dawn of a new millennium…
AOL Instant Messenger away message (1997)
It's the late 1990s. I'm sick of the Macarena and starting to get concerned about Y2K. For over two decades, we've had asynchronous digital communication like E-mail and bulletin boards. Not even half of Americans are on the internet, and many households only have one computer with one shared E-mail address that they don't check constantly. Send a message, and you can assume that at some point later, the recipient will check their inbox and receive it. But for the most part, we've never had a truly synchronous, popular digital communications technology, until now. 
For many Americans coming online for the first time, AOL Instant Messenger, and other similar services like ICQ and MSN, are a revelation. Two or more people can chat through text, in real-time, at different computers over the internet. This creates new opportunities, but also new logistical problems. 
We've all had the experience of seeing a friend online and waiting and waiting to see if they are really online or just forgot to log off. Thankfully, we have the "away message." Take as much space as you want, using any formatting you need, and leave a unique (or recycled) message so your peeps know that "bro needs the comp" or that you're "out for a minute, brb." There's a label by your screen name, and if you try to message someone who's "away," you get the message automatically. Not only is it nice to be able to explain an absence, but you can also announce exciting news or amuse your friends. Add some richness, texture, and personality to your life online.
Further reading
Missing the folks in your buddy list? Sign On to AIM Rewind from your browser.

Also, check out InVision's oral history of AIM.
Facebook status updates (2006)
"What's on your mind?" That's the prompt when you open Facebook, formerly TheFacebook. It's now available to anyone with an email address using their real name, not just college students with RAZR phones and pirated Limewire downloads. You can type anything as a status update. Make it as long as a blog post or as short as a quick note about how you can't wait for the next Sopranos DVD to arrive in the mail from Netflix.
Many use their status updates like an AIM away message for their extended friend group. But it also has utility in leaving more generalized updates — not just what I'm doing right now, but what I'm up to these days. While they might make them more complicated later, status messages are currently just simple and effective text-only notes.
However, increasingly you have to be mindful of crafting messages that will be seen not only by friends, but also family members, tenuous acquaintances, and professional connections. And cellphones are getting better and better. Soon everyone will be able to see and update Facebook whenever and wherever. That'll be great… right?
Slack status (2013)
Slack is a new way to communicate at work, free from the rigidity and formality of email. It's organized by topic, not by conversation, and everything lives in the app. A majority of Americans now have a smartphone, and they can bring the internet, including their work lives, with them anywhere. With Slack, accessing all of your work communications across desktop and mobile is seamless.
And it can be really fun and addictive. There's room for all kinds of side chatter with coworkers and Slack has great integration with files, gifs, links, and anything else you might need or want. Head over to the #dance channel for Harlem Shake Vines, or to #Marvel to trade gossip about the next Avengers movie.
But this deeper level of connection can be a double-edged sword. You'll get the answer you need instantly, but good luck clocking out and setting boundaries. Constant slack pings make it near-impossible to accomplish "deep work," and logging off can make you look like you're ducking the boss or being anti-social. 
Slack has a status message, and you can set available hours, but these features easily fade into the background of Slack's busy interface. Unlike AIM, phone calls, or email, Slack doesn't come with ironclad norms about what's acceptable, and what's OK varies considerably from workplace to workplace. In some Slacks, if a user is "away," you should avoid them at all costs. In others, it's always fine to send messages for "whenever you see this."
Further reading
"The little green dot": the current state of Slack status, c/o WIRED.

And check out Michael Lee's mindful Slack status messages.
Instagram Notes (2023)
It's now. We're post-COVID-ish, and everyone's burnt out with a "broken brain." 
People are chafing, not only from the near ceaseless online cross-talk and chatter, but also the sense that all these conversations demand synchronous availability. In some countries, workers are pushing back for the "right to disconnect," and many have sought some degree of a "digital detox" away from the always-on social internet.
One of the last places that feels low-pressure and open-ended, at least to me, is Instagram Stories (or similarly, Snapchat). Send whatever, because … who cares? They disappear in a day. Since late last year, Meta has been partly rolling out a new Instagram feature called "Notes," where you can leave a short (max 60 characters) message that stays up by your avatar for your Close Friends list or your mutual follows.
In recent memory, Meta has rolled out tons of features across Instagram, Facebook and WhatsApp. They're already in the process of declaring that some of them, like newsletters, are failed experiments that they're rolling back in. Maybe Notes will stick, or maybe not. My account doesn't even have it yet, but my wife's does. It seems like a harmless, intermediary step towards giving users what Meta describes as a "casual and spontaneous way to express themselves and connect with each other." It might feel quietly revolutionary if AIM hadn't supported a more robust version, with more characters and custom style options, more than two decades ago. 
What comes next?
We now have a multitude of options to communicate both synchronously and asynchronously, and we swap between them constantly. Some friends we only talk to on Instagram DMs, some old friends we exclusively Google Chat, and a few freaky Twitter refugees are only on Mastodon. Then there are the platforms for talking to different groups, like neighbors, coworkers, parents or classmates. 
We have lots of ways to leave a sort of status update, but we're missing a significant piece — interoperability. We need the ability to set a global away message that works across all (or at least some) platforms and accounts. There are precedents: the US government required AIM to become interoperable with its competitors in 2001 as a condition for a corporate merger. Email, decentralized and de-commodified, seamlessly works across different apps and hosts.
In this next quarter century of the social internet, we deserve more flexibility. Users need the ability to establish a passive notification with more nuance than the binary of "I'm here" or "I'm not." The AIM away message, 25 years ago, should not be the gold standard, it should be the starting point. 🌳
---
Community Corkboard
Want more to read? Here's what caught our team's attention for the past couple of weeks.
---
And that's it for this week. Next time, we'll grab a partner and lace up our ghillies. See you on the dance floor in two weeks' time.
PrAcTiCiNg My CaPpInG sKiLlZ,
Paul